Are Glofish sterile? No ,Glofish are not sterile. There is a myth that they cannot breed. However, the truth is that They can breed just like their non-glow counterparts. This myth comes to the public mind as these fish are genetically engineered fish.
They are patented and trademarked as glofish. They have been created from several different species of fish. Zebrafish (Danio rerio), tetra (Gymnocorymbus ternetzi), Tiger barbs (Puntius tetrazona), and Rainbow Shark (Epalzeorhynchos frenatum) and most recently Betta has been added to the lineup.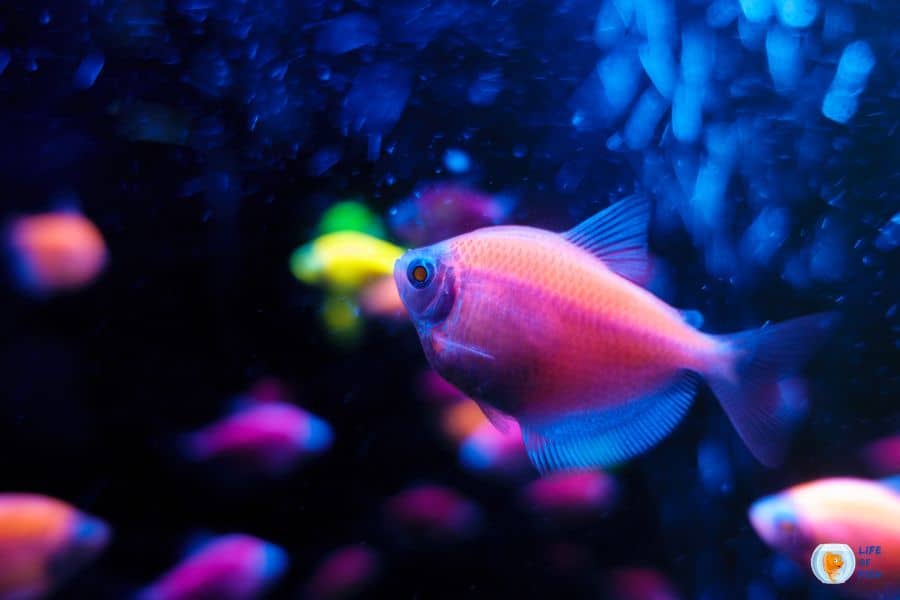 Do GloFish breed easily?
No, usually it is not that difficult to breed. Nevertheless, the difficulty of breeding depends on their non-glow counterparts. Since the term 'glofish" is used for strains of different species like bettas, danios, or barbs, you should know the breeding behavior of each species.
If you've already bred other fish species, nothing should come as a surprise. All you need is a breeding pair, the right setup, and some maintenance work.
How do I get my GloFish to breed?
Selecting a breeding pair 
Mostly they breed in spawns, one male for one female. The most important thing you need to breed fish is a breeding pair. Though you can select any male and female fish, for a good bright color breed you need to select the right parents.
Select male and female fish that exhibit more extreme traits. Choose the brightest, largest, most healthy-looking fish for the pair. You need to choose fish of the same color if you need to maintain the same brightness and glow in the offspring.
So, if you have green male fish, breed them with green female fish, for example. Further, you cannot have mixed colors, if you breed two different colors of glofish. You can have either the color of male or female fish. 
You cannot breed among two species. For example, you cannot interbreed Danio and Tetra. You need to provide the water parameters and another requirement for the chosen parents depending on their species. 
After you have selected the mating pair, put females and males in separate breeding tanks for a few days, approximately two weeks before breeding. Introduce both male and female fishes to each other before breeding 
Set Up a Breeding Tank
Choose the right size tank
You'll first have to choose the right size aquarium, to set up a breeding tank. This will depend on the species you want to breed. For example, a breeding tank for barbs, bettas, and danios should be between 5-10 gallons.
For Tetras with little less room,  3–5-gallon tanks are sufficient. but larger species like sharks require a large tank. You'll need at least 75 gallons or more for breeding glofish sharks.
Choose a good substrate
Next, you have to choose a substrate for the tank though most glofish species don't require any. On many occasions, keeping them in a clean-bottom tank makes cleaning a lot easier. However, you should provide substrate for egg-eating species such as gravels or small pebbles These provide crevices for the eggs to land so that the parent Glofish will not eat them.
Moreover, for the species that need a substrate to lay eggs, you will need to provide it. For example, sharks are bottom-dwellers and they spend most of their time at the bottom of the aquarium. Therefore, you should add a substrate. A 2-inch-high layer of gravel is sufficient. Further, if you need to add some plants, you need to have a substrate.
Add some hiding places
Next, add some hiding spots. These can be natural, like plants, driftwood, or rocks, but also artificial ornaments. Whatever you add, make sure it fulfills the requirement of parent fish. Some fish species like bettas and tetras prefer breeding and laying eggs in hidden places. Therefore,  providing them with more hiding spots encourages them to breed faster.
Good aquarium lights
You'll also have to install some aquarium lights. Good lighting promotes faster hatching and growth. It maintains the growth of plants in the aquarium while encouraging large, healthy breeds. Make sure, you don't leave the lights on 24/7 fish as it makes fish active the whole day without getting rest. Around 12-16 hours of light per day is enough for the best results.
Applicable filter
Finally, install a good filter.  Clean water is crucial for the growth and development of healthy fish. Many aquarists recommend using a sponge filter for breeding tanks, as it is gentle and efficient for tanks up to 75 gallons. However, it also depends on the brand and size, and select a good filter that matches your requirement.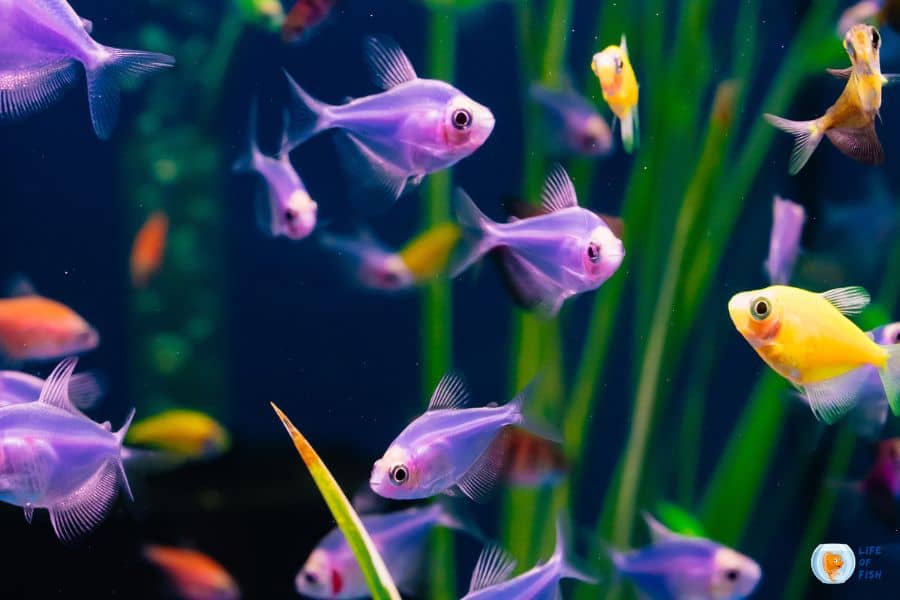 Water parameters
This depends on the species you are going to breed.  Here's a quick rundown of the ideal ranges for each fish:
Bettas: The ideal temperature goes between 75-81°F. The pH should be slightly acidic to slightly alkaline (6.5-7.5). Bettas also prefer very soft water (3-4 dGH or 50-66 ppm).
Danios: This species prefers temperatures between 70-78°F and slightly alkaline water with a pH between 7.0-7.8. Danios thrive in soft to very soft water (3-8 dGH or 50-140 ppm).
Tetras: The ideal temperature for this species is 70-85°F. The water should be slightly acidic to slightly alkaline with a pH between 6.5-7.5. Tetras prefer soft water (4.0-8.0 dGH or 80-140 ppm).
Barbs: They prefer temperatures between 77-82°F and slightly acidic to slightly alkaline water (pH 6.0-8.0). Unlike other glofish species, barbs are very adaptable to different degrees of water hardness. They can live just fine in soft to hard water (5-18 dGH).
Sharks: The ideal water temperature for glofish sharks is 75-81°F. The water pH should fall between 6.0-8.0. Sharks thrive in soft to moderately hard water (5-11 dGH).
You may need to install a water softener to reach the desired dGH value depending on the water quality in your area. As most glofish species prefer warm water, you might also have to add a heater to the breeding tank. Most fish do well in 7.0 pH water, which is the average value for most water sources. If you're unsure, you can also test the water with a pH strip.
Feed high-quality food
Both parents and fry need high-quality food. Good nutrition is just as important as setting up the right water parameters. Your fish need nutrients to create healthy fry. 
Feed the adults once to twice a day at most. Although fish can survive on just fish flakes, you should include a variety of fresh and high-quality foods in the diet. You need to provide them with meals depending on the species.
For example, Bettas and danios need higher protein meals. Tetras, barbs, and sharks require a more balanced diet, including more plants. All fish should get a combination of live, frozen, and dried foods.
For protein, you can include brine shrimp and other small crustaceans, bloodworms, daphnia, and insect larvae. Algae wafers or pellets, and green vegetables like peas and spinach make great sources of vitamins, fiber, and plant pigments.
Watch your Glofish for several hours for signs of breeding. 
In a well-established tank, the breeding pair will usually begin chasing one another and engaging in spawning embraces.
Remove Adults After Breeding
 After several hours, you can see the eggs although they are small. Like most aquarium fish, they tend to eat their own eggs. Especially, original species of Danios, tetras, barbs, and sharks are known to eat the fertilized eggs and the newly hatched fry.
They're all opportunistic feeders, so they'll gobble down anything small enough to fit into their mouths. Compared to its counterparts, the betta fish doesn't usually eat its eggs or fry. But it's not unheard of either. Therefore, separate the adults from the breeding tank. 
Watch your tank carefully for the next 48 hours.
Provided that the water parameters and lighting are good, the eggs should hatch in a few days probably the next 48 hours. The fish eggs are very small and light-colored or nearly transparent. They cling to the sides of the tank. 
Before fry comes out of the eggs you can guess their fertility too. There should be a small gray or black dot in the middle of the eggs if they have been fertilized. From the moment of fertilization, each species takes a different amount of time to hatch. During this time, you should monitor the water parameters daily.
 Betta fish hatch in about three days and take another two days to start swimming and feeding. Danios eggs hatch in one and a half to two days and take another two days to start swimming. Tetras hatch in a record time of 24 hours but take three days to become free-swimming.
Barbs will hatch in 1 and a half days, but take five days to swim. Shark eggs take around 5-7 days to hatch, plus a couple more days for the fry to become free-swimming. Don't remove the yolk-sacs after the fish finish hatching. They will spend the first few days feeding off the sacs until they develop enough strength to swim.
Start Feeding the Fry
Now, actually, the breeding is over and you have to take care of the fry. Once the young fish have finished feeding on the yolk-sacs, they will roam around looking for more food. From this point, you have to start feeding them. When newly hatched, all fish fry require a carnivorous diet.
They'll also need a higher feeding frequency than adults. So, you should feed the fry a variety of meat sources around 4-6 times a day. You should only provide them very little every time. The food should also be small enough for them to eat comfortably.
Feed them freshly hatched brine shrimp, micro worms, and high-quality micro pellets until they grow large enough. As the fry grows and develops, you can slowly decrease the feeding frequency and introduce new foods. Crushed fish flakes would make a good addition later on.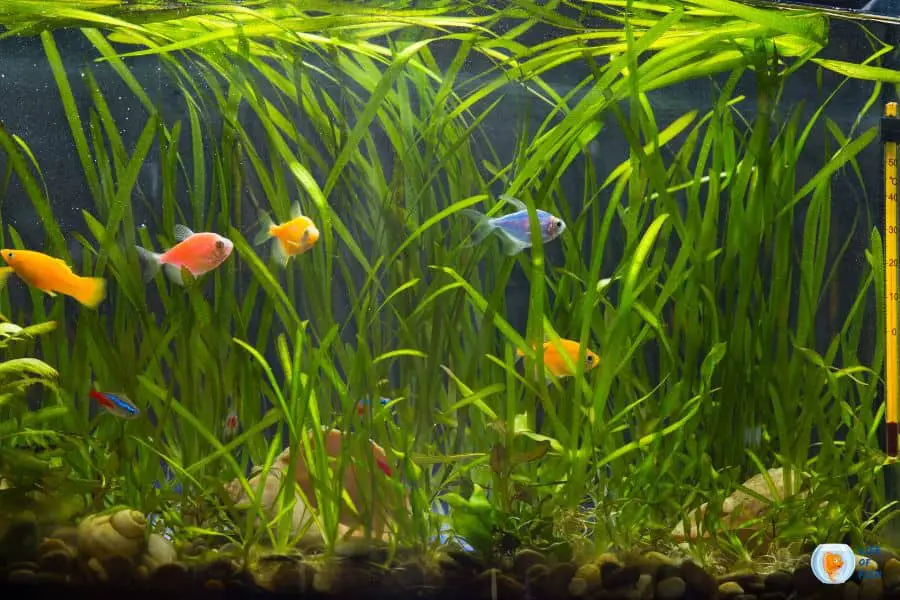 Glofish breeding season
The breeding season of GloFish depends on the species. On average, most of GloFish species reach their sexual maturity at around 12 weeks. But some species take longer to be able to reproduce.
Although Betta fish become adults after 12 weeks, don't stop growing until around 12 months. They take  4-12 months to become mature enough for breeding. Similarly, danios should be 7-18 months old to start breeding.
How fast do GloFish reproduce?
The egg-laying habits and natural instincts of this fish are the same, even though this is a genetically modified fish. 
There are some variations depending on the species. Usually,egg-laying fish can breed every 12 to 14 days. Though this is true for Bettas, tetras, and barbs, Danios can breed more often. Usually, Danios breed about every 10 days. However, rainbow sharks are notoriously difficult to breed in captivity due to their territorial and aggressive behavior.
How do you know if your GloFish are mating?
It is not difficult to know they are mating season. You should have a fair knowledge of the particular species. all glofish species are egg-laying species. Usually,  females will show physical signs that they are carrying eggs. A swollen belly is the most noticeable symptom. 
Can you mix different GloFish?
You can keep them in a community tank, but you should know their compatibility with other fish. The compatibility with other fish species is usually the same as their non-glow counterparts. For example, Glofish Zebra Danio is a poor tank mate option for bettas due to their fin nipping tendency.
Further, GloFish Sharks can be semi-aggressive, so we advise keeping only one shark per aquarium. They can however be housed along with other GloFish Tetras, Danios, and Barbs. It should also be noted that our GloFish Barbs can potentially become aggressive if they are not kept in groups of five or more.
How do I know if my GloFish danio is pregnant?
You can easily identify them by the swollen belly of female fish. However, you should not confuse the swelling of the abdomen with pregnancy. The term "pregnancy" cannot be used for  GloFish as they are not live bearers. Females will release eggs in the presence of males.  
Barbs and danios carry eggs for 3-4 days. Bettas and tetras, on the other hand, might take up to 14 days. 
Is it legal to sell GloFish?
No, it is not legal to sell GloFish in your own aquarium if you don't have a license. Since GloFish are genetically engineered species, it was covered by several patents.
According to the rules, Intentional breeding and/or any sale, barter, or trade, of any offspring of GloFish® fluorescent ornamental fish is strictly prohibited. It is reviewed by government agencies such as the FDA in the United States and ECCC in Canada.
Further, Australia, Canada, and European countries had banned GloFish altogether. Although GloFish is legal all over the USA it is prohibited in California.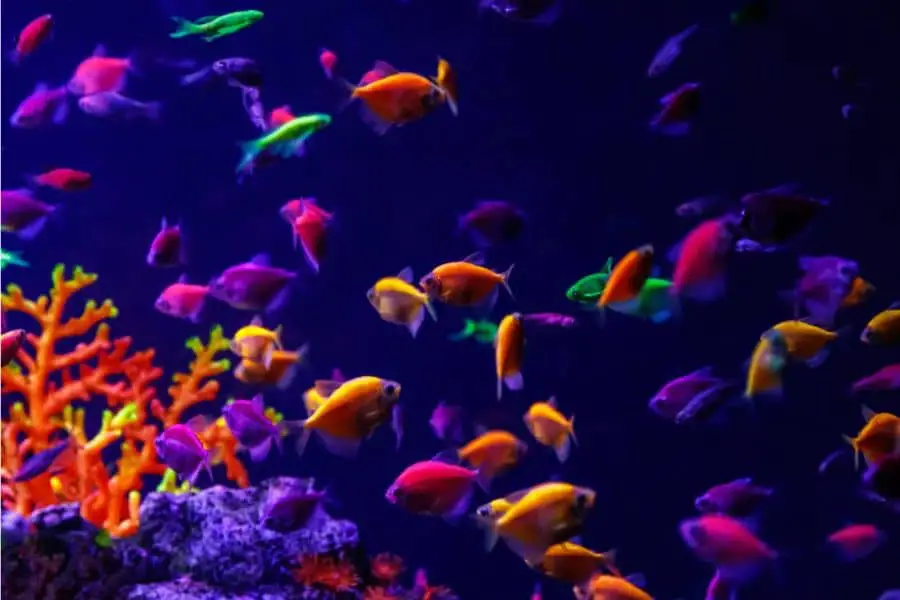 Recently asked questions
Is GloFish man-made?
GloFish are fish that have been genetically modified by scientists. They look fancier and more colorful than their original species. The colors are said to be snatched from other organisms, such as sea anemones, and inserted into their gene structure. They are traditionally bred and are not dyed, injected, or individually altered in any way. 
What is the biggest GloFish?
GloFish Sharks are the largest species in the GloFish family. 
What are GloFish injected with?
They are not injected or dyed. Instead, their genetic structure was altered to have such brilliant colors. They inherit their harmless, lifelong color from their parents, and require the same care as any other community fish. 
Conclusion on "Are Glofish sterile?".
GloFish are genetically engineered fish species. Though there is a myth that they are not fertile, actually they are fertile as their non-glow counterparts. Their breeding behavior and tank conditions are the same as their original breeds.
However, the fry can be duller or bright colored than their parents. If you are a trained breeder, then you can breed them quickly. However, you cannot sell them as they are covered by many international patents.
Read Next : Can African Dwarf Frogs Tolerate Aquarium Salt?