Do you wait to find out the best leisure time activity to relax the stressed mind? Yes! Having a fish aquarium is a nice idea. When it comes to maintaining an aquarium with multicolored fish varieties, there are so many things to consider. The life of fish has been designed to share all those things to ensure a mentally stabilized future generation.
Actually, here, we will highly consider offering all the details on how to look after varying kinds of fish tanks. This may extend from a small aquarium placed in a corner of a house to a larger-scale aquarium in an industrial setup. Once you become a regular fan of our site, you will be able to easily find out the foods that are good for different kinds of fish varieties, ideal Ph values to ensure the health of your lovely pets, and how to set up oxygen and aqua plants to ensure optimal background for their growth.
But, it will not limit to the maintenance of an aquarium. We will also offer details on different species of fish and how you have to categorize them. Actually, if you miss this, there are higher chances to have bad experiences. That is why we are telling the life of fish is one an A-Z guide on looking after your fish pets.
Further, since we are customizing all these details into a short piece of content, you will not have to spend too much reading time on it. So, this is the ideal place to gather all the details on fish life just by using a fast and simple method. Thus, we hope our site will be the world's best library on the life of fish. So, we invite you to direct any doubt on this subject to our customer support units. We will always be ready to help you without any cost in order to improve the satisfaction of our lovely fans!
---
Meet Our Team
Dr Chamika Siriwardhana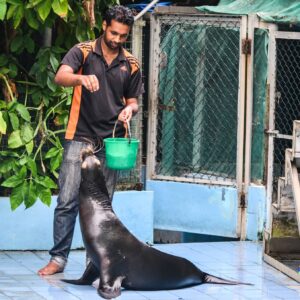 Ms. Udeshika Wimalsiri