Houndfish is an exciting game fish with a beak that looks like a crocodile's jaw. Therefore, it is also called crocodile needlefish, Alligator Gar, Giant Longtom, Crocodile Longtoms, Hound needlefish, Seagars, Ocean Piper, and Garfish Gar in different regions. All the names are related to this unique crocodile look, and it is a bit hard for fish to catch because of their dangerous beaks.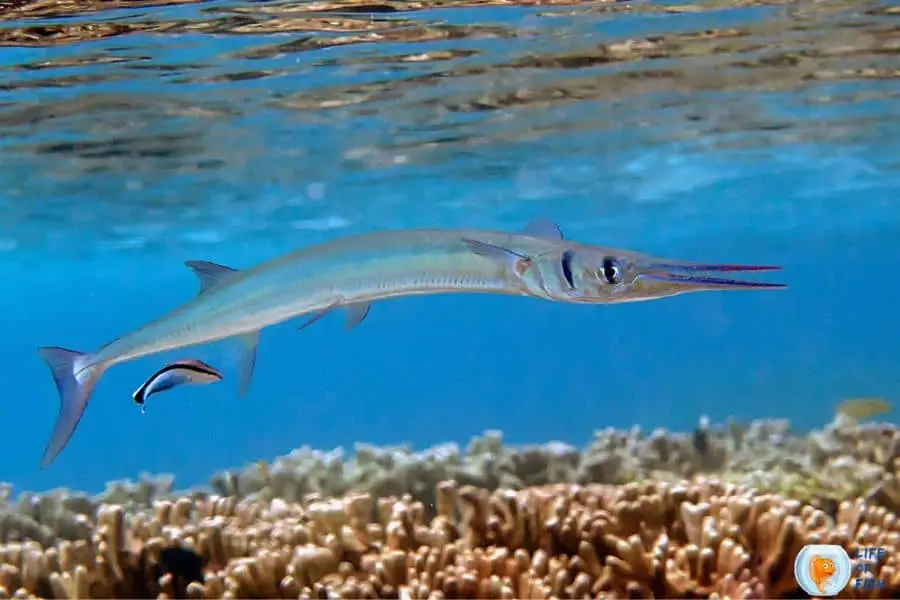 What is Houndfish? 
Scientifically named Tylosurus Crocodilus, is a game fish that belongs to the family Belonidae. The Houndfish is the most prominent member of the Belonidae family, in the Beloniformes order, Actinopterygii class.
You can find this Fish in the oceans worldwide. In the Western Atlantic ocean, they are present in the USA to Brazil, and in the Eastern Atlantic Ocean, they live near the African coastline. You can also find this Fish in tropical waters. They are distributed from North Japan down to New South Wales (Australia) in the Pacific ocean. You can also find this Fish in the Indian Ocean.
What Do Houndfish Look like?
Houndfish is a spineless fish that grows up to 5 feet long and up to 10 pounds in weight. It is a needlefish with a crocodile-like beak.
Color
The sides of its body are silver. The backside has green and blue shades. The bottom is silvery white. The color of this Fish is the same as other needlefishes like Stickfish but is lighter. The bones, mouth, and flesh of this Fish have a bit of aquamarine color.
Shape 
Houndfish is a thin and long fish that grows up to 5 feet in length. It has a narrow and pointed jaw that resembles the jaw of a crocodile. They are spineless. Instead, it has soft rays. Its dorsal fin has 21 to 25 soft rays, and the anal fin has 19 to 22 rays. They also have 80 to 86 vertebrae. What makes them different from other needlefish is their shape. They have a more stout, tubular body and a shorter head than other needlefishes.
Size
Houndfish is the largest member of the Belonidae family. It grows up to 5 feet in length and 10 pounds in weight. The longest recorded fish measured at 4.9 feet (150cm), and the heaviest recorded measured at 6.35 kilograms (14 pounds).
Life span
Although the life span of the fish is specifically not recorded anywhere, we can expect about eight years as it is the average lifespan of Needlefish species.
Male and female Fish 
There is no significant difference between male and female Fish.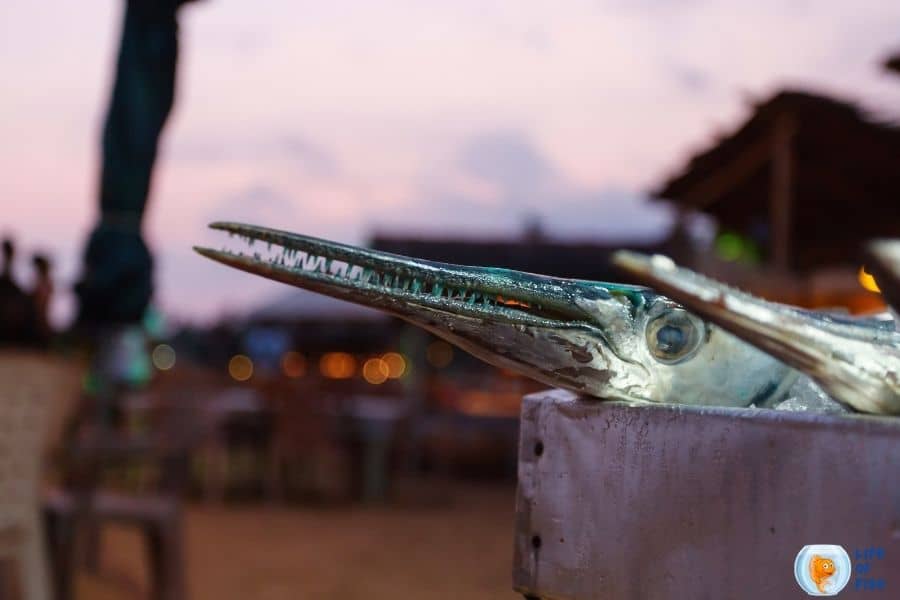 Where Houndfish live 
They usually live in tropical and subtropical oceanic habitats, in reefs, and even lagoons. The preferred water temperature for these creatures is about 20-30°C. They are usually top-dwelling fish that stay immediately beneath the surface of the water. They swim and hover around the surface of the ocean all the time. However, you can find them even at depths of over 15m under. The most common depth of this species is between 0 to 13 meters.
Houndfish behavior
They usually swim in small schools. However, you may find them solitary too. They are attracted to lights. So, when they see sudden lights, they may jump into the light. This jumping behavior of this species is considered dangerous for humans because they can jump fast and moderately high.
While jumping, they may attack humans with their beaks as they view us as a threat. There are several records of Houndfish attacks that were fatal. They jump when they are startled or attacked. The anglers use their light attraction as a benefit to catching them at night. Their main predators are Tuna and other large Fish.
What do Houndfish eat?
They are carnivore fish species. They usually consume small flying Fish as well as anchovies. They like to explore lagoons and seaweed reefs to find their meals.
About Houndfish breeding
They usually breed around April and May. They typically migrate to jetties, piers and reefs to breed. Reproduction happens by external fertilization. The male Fish fertilizes the eggs while the female Fish lays eggs near seaweed. The eggs have tendrils to help them attach to the seaweed after fertilization. A female fish can produce up to 30,000 eggs per spawn.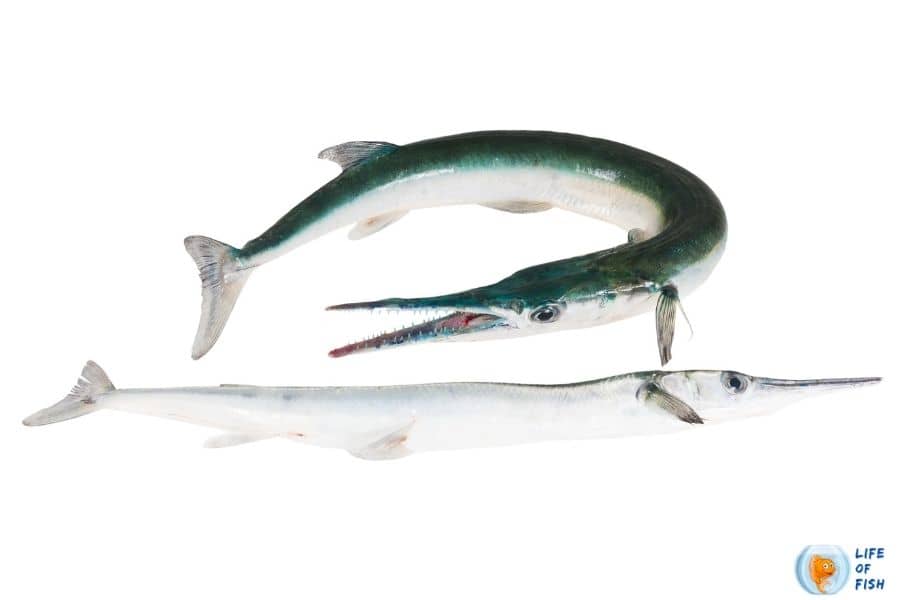 Importance of Houndfish
Ecosystem balance
Tylosurus Crocodilus have widely distributed fish species that dwell on the surface of the ocean often. They also travel to the lagoons and seaweed reefs to find meals and reproduction. Also, they serve as prey for larger fish like Tuna and feed on small flying fish and anchovies. Therefore, they serve as secondary consumers in the food chain.
Sportfishing
They are popular as game fish because of their crocodile-like beaks and jumping behavior. As their beak is thin, they can devour the bait without even getting snagged. Even when you catch a fish, you need to follow some instructions to be safe.
They are easily agitated Fish that fight to get out of the hook aggressively. If you reel up a fish right away, it may jump and stab you with its beak, leaving severe wounds. So, once you are certain it's a houndfish, you have to let it tire itself out before reeling it up.
As a food
Although edible, many do not consume their flesh because the bones are blue and the meat is greenish. However, they are still sold at the market as food, and the demand for this Fish is small. Many anglers catch these Fish solely for sport and release them once caught. Therefore, this Fish is not endangered because of overfishing.
Regardless of the color, their flesh tastes excellent and has a taste similar to rainbow trout. It's easy to fillet, turns white when cooked, and has a very nice flavor. As the market for this Fish is small, the price tag of Houndfish is low and affordable.
Are Houndfish dangerous?
They are considered dangerous Fish to catch by anglers because of their size and their tendency to jump out of the water when frightened or attracted to lights. Most anglers are afraid of catching Houndfish as they tend to stab with their beaks when they jump.
These stabs cause puncture wounds, and there are several reported cases of fish injuring humans. In April 2000, a 17-year-old teenager in Florida was severely wounded by a houndfish while snorkeling. The fish leaped out of the water and stabbed the neck of the woman, causing severe harm. There are several other reported cases of attacks on the news. So, they are considered dangerous game fish.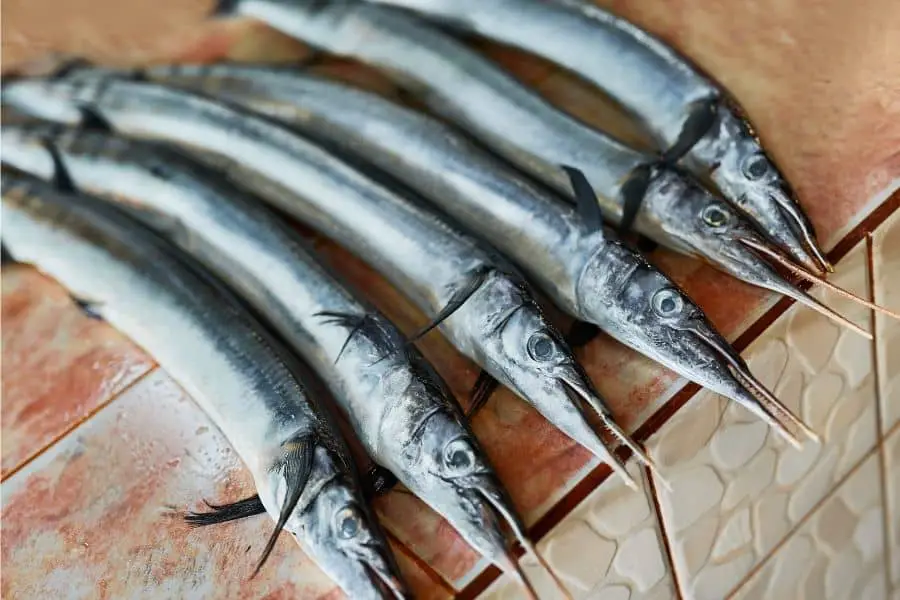 Related question
What kind of Fish is a houndfish?
They, scientifically known as Tylosurus crocodilus, is a needlefish of the family Belonidae (Needlefish), Beloniformes (Flyingfish and Needlefish) order, Actinopterygii (Ray-finned Fish) class. They can be found in tropical and subtropical waters around the world. They are popular as game fish.
Are Houndfish rare?
No. They are not rare. You can find them pretty much everywhere around the world. And they are a fast-breeding species. The main reason for this is people rarely catch Houndfish in commercial fishing because the market for their flesh is low.
The bones of Houndfish are bluish, and the meat is greenish, which makes consumers avoid this Fish. But, few people know that it is actually edible and delicious. Even in-game fishing, they are supposed to catch and release. Therefore, they are not considered endangered.
Are Houndfish poisonous?
No. They are not poisonous. Houndfish is actually edible and delicious. Their greenish flesh of them doesn't have any toxins. So, you don't have to worry about eating their flesh. However, needlefish like Houndfish have many bones. You need to be careful while eating houndfish flesh in order to avoid choking.
Are Houndfish good to eat?
Houndfish are actually nutrition-rich Fish with proteins and vitamins. According to Nutritional Marine life by Ramasamy Santhanam, they contain 13.3% protein, 3.7% Carbohydrates, 4.6% Lipid, and 1.4% Ash. Houndfish are also vitamin-rich with Vitamin B1, B2, B3, B5, B6, Vitamin A, Vitamin K, Vitamin D3, and Folic Acid.
Further, their flesh is delicious and tastes like rainbow trout when prepared. The greenish color of meat turns into white when cooked, and it is easy to fillet. So, if you want to give it a try, don't be afraid of its color. Houndfish are good to eat.
Other Names for Houndfish?
Houndfish are called by many names in different regions. Here we have listed some of those names.
Hound needlefish
Alligator Gar
Giant Longtom
Crocodile Longtoms
Seagars
Ocean Piper
Garfish Gar
hound swish
alligator grass
giant longtom
crocodile longtoms
cigars
Are houndfish schooling fish?
Houndfish usually stay in schools. However, they are ok to travel solo as well. So, it's not unusual to see only one Houndfish on the shore.
Interesting Facts about Houndfish
Houndfish is a game fish. But, anglers scare catching Houndfish because of their ability to cause severe wounds.
Their eggs have tendrils to attach to the seaweed to survive
Attracted to lights like moths.
Travel in schools as well as alone.
Houndfish are easily frightened species.
The largest Houndfish that holds the IGFS record was weighted at 88.3kg. Angler Daniel John Leonard caught it in the Bahamas on May 25.
Houndfish are found worldwide.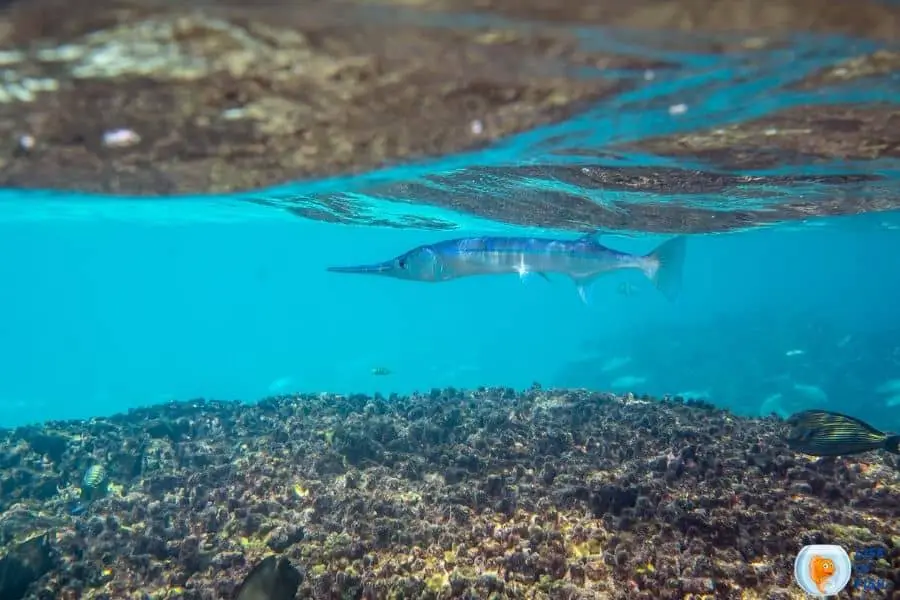 Conclusion 
Houndfish are game fish that many anglers are afraid to catch because of their beak which looks like the jaws of a crocodile. People fear these fish not because they are carnivores but because of their ability to stab with their beaks. The stabs can be severe and fatal, and these fish stab when they jump. And, they jump when they feel attacked or see lights.
Because of this, Houndfish are considered a bit more challenging game fish by anglers. They are also sold at fish markets as food. But, the demand for Houndfish is low because of their greenish color flesh and too many bones. However, Houndfish are delicious and nutritious food you can try if you prefer.
Read Next: Everything You Need To Know About Lake Sunfish